Publications
Learn more about World Dairy Expo with these pulications.
Official Program
The Official Program, published by Dairy Herd Management, is the premier publication of World Dairy Expo. In addition to all commercial exhibitor listings and booth locations, the magazine is filled with important information, interesting stories and one-of-a-kind photos.
For advertising opportunities in the Official Program, click here.

---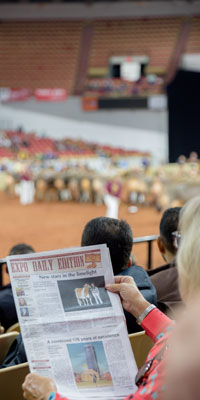 Expo Daily Edition
Expo's on grounds daily newspaper is published by Dairy Star. It is available at the gates and around the grounds every morning.
Advertising opportunities in the 2023 editions can be found here.
The 2022 Expo Daily Edition is available online:
---
Cattle Logs
Cattle Logs are the official cattle show guide, listing all show participants in each breed show class. Nearly, 13,000 Cattle Logs are distributed free, ringside during the event.
For information on advertising in the Cattle Logs, click here.
Jr. Holstein Ayrshire Brown Swiss Guernsey Holstein Jersey Milking Shorthorn Red & White