School Tours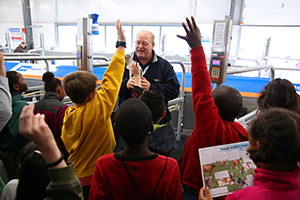 World Dairy Expo hosts Madison area fourth grade school children for a fun, interactive guided tour of World Dairy Expo. Kids get to see some of the most beautiful dairy cows and calves in North America and learn about the different breeds of dairy cattle and how they are judged in the Showring.
Students will see the milking parlor equipment and hear of the processes that the industry uses to ensure a high quality, nutritious food product. Animal nutrition, health care and comfort are discussed during the tour of the grounds including modern agriculture equipment to view and feed samples to touch and smell.
There is no fee for the tours. Each will receive a goodie bag plus cheese and milk snack. Industry expert chaperones are provided for each group, but parents/school chaperones are welcome to join their group tour.
Buses will be provided easy entrance/exit from the WDE grounds and tour station as well as a special parking area while waiting to pick up their group. Click here to view the map of the bus route (PDF).
Schools are scheduled on a "first come, first serve" basis. All are required to have chaperone guidance. Sign up is due by, Thursday, September 6, 2018. The 2018 World Dairy Expo School Tours will be Wednesday, October 3 and Thursday, October 4.
Online registration form is available here.
Registration or Additional Information:
World Dairy Expo
3310 Latham Drive
Madison, WI 53713
Phone: 608-224-6455
Fax: 608-224-0300
wde@wdexpo.com