World Forage Analysis Superbowl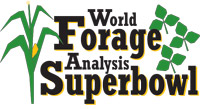 Located in the Arena Building during World Dairy Expo, the World Forage Analysis Superbowl Contest invites forage producers to enter their highest quality forages in eight different categories. More than $26,000 in cash prizes will be awarded to the top samples that are then displayed at WDE. Forage experts from the U.S. Dairy Forage Research Center, University of Wisconsin and other research centers are also on-hand to present cutting-edge information and to answer individual forage research questions during Dairy Forage Seminars.
---
Enter Today!
Entries are now being accepted for the 2019 World Forage Analysis Superbowl. To learn more about the contest, download the official Rules and Entry form. Corn silage entries must be received by July 12, 2019 while all other entries are due August 29, 2019.
The 2019 champions will be named on October 2 at World Dairy Expo. Call 920-336-4521 with any questions.
RSVP today for the Mycogen Seeds Forage Superbowl Luncheon on October 2 at 11:00 a.m. Join fellow producers as we celebrate the top forage growers at World Dairy Expo 2019. Lunch is free, but an RSVP is required by September 15.
---
Dairy Forage Seminar Stage
Seminar recordings are made possible by broadcast sponsor, Protexia.

Wednesday, October 2


10:00 a.m.

Interseeding Alfalfa into Silage Corn

John Grabber, Research Agronomist, USDA-ARS, US Dairy Forage Research Center, Madison, Wis.

1:30 p.m.

How We Make Dairy-Quality Hay and Baleage

Don Hasselquist, Forage Producer, Osceola, Wis.

Thursday, October 3

10:00 a.m.

Corn Silage Hybrids: Cost of Digestible Fiber

Mike Miller, William H. Miner Agricultural Research Institute, Chazy, N.Y.

1:30 p.m.

Managing Manure on Forage Crops for Economic and Environmental Benefits

Eric Young, Research Soil Scientist, USDA-ARS, US Dairy Forage Research Center, Marshfield, Wis.

Friday, October 4

10:00 a.m.

Evaluating Reduced-Lignin Alfalfa Yield and Quality Across the United States

Kim Cassida, Extension Forage Specialist, Department of Plant, Soil and Microbial Sciences, Michigan State University, East Lansing, Mich.

1:30 p.m.

Incorporation of Cereal-Grain Forages into Rations for Lactating Cows

Gonzalo Ferreira, Dairy Management Extension Specialist, Department of Dairy Science, Virginia Tech, Blacksburg, Va.

Saturday, October 5


10:00 a.m.

Getting the Most Out of Your Rations: Feed and Nitrogen Efficiency
Geoff Zanton, Research Dairy Scientist, USDA-ARS, US Dairy Forage Research Center, Madison, Wis.

---
Sponsors
Platinum Sponsor: Dairy Forage Seminar Broadcast Sponsor:
_________________________________________________________________________________________________________
Division
Sponsor
Division
Sponsor

Standard Corn Silage

Alfalfa Haylage

Brown Midrib Corn Silage
Mixed Grass Haylage
Baleage
Grass Hay
Dairy Hay
Commercial Hay
Grand Champion Forage Producer
Grand Champion First-Time Entrant
Quality Counts Award Hay/Haylage

Quality Counts Award Corn Silage

General Sponsors:



---
World Forage Analysis Superbowl News
Winners Announced in 36th Annual World Forage Analysis Superbowl
Dairy Forage Experts to Present at World Dairy Expo
World Forage Analysis Superbowl to Award Record-setting $26,000 in Cash Prizes
Winners Announced in World Forage Analysis Superbowl
World Forage Contest Deadline Fast Approaching
Dairy Forage Seminars Provide Additional Education Opportunities at World Dairy Expo
World Forage Analysis Superbowl to Award $22,000 in Cash Prizes
---
WFAS Organizing Partners: Dairyland Laboratories, Inc., Hay & Forage Grower, US Dairy Forage Research Center, University of Wisconsin and World Dairy Expo