World Forage Analysis Superbowl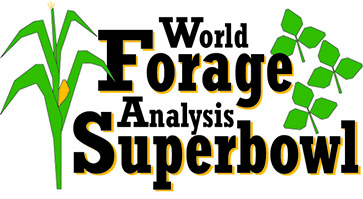 Located in the Trade Center during World Dairy Expo, the World Forage Analysis Superbowl invites forage producers to enter their highest quality forages in eight different categories. More than $26,000 in cash prizes will be awarded to the top samples in 2023.
Forage experts from the U.S. Dairy Forage Research Center, University of Wisconsin and other research centers will also present cutting-edge information during Dairy Forage Seminars. Information and full recordings of the 2022 Dairy Forage Seminars is now available here on YouTube. Stay tuned as we put together the 2023 Dairy Forage Seminars!
---
2023 Contest
Entries for the 2023 World Forage Analysis Superbowl are now being accepted. For rules and entry information, please click here.
---
Sponsors
Platinum Sponsor:

---
Division
Sponsor
Division
Sponsor

Standard Corn Silage

Alfalfa Haylage

Brown Midrib Corn Silage
Mixed Grass Haylage
Baleage
Grass Hay
Dairy Hay
Commercial Hay
Grand Champion Forage Producer
Grand Champion First-Time Entrant
Quality Counts Award Hay/Haylage

Quality Counts Award Corn Silage

General Sponsors:



---
World Forage Analysis Superbowl News
Entries Open for 2023 World Forage Analysis Superbowl
Champions Declared in 2022 World Forage Analysis Superbowl
Nationwide Dairy Forage Experts to Present at World Dairy Expo
Growers Invited to Enter 2022 World Forage Analysis Superbowl
Winners Announced in 2021 World Forage Analysis Superbowl
Dairy Forage Seminars Selected for WDE 2021
Entries Kick Off for the 2021 World Forage Analysis Superbowl
Winners announced in 2020 World Forage Analysis Superbowl
World Forage Analysis Superbowl Goes Virtual with Brevant seeds Forage Superbowl Luncheon
World Forage Analysis Superbowl Launched YouTube Channel to Offer Virtual Educational Seminars
Entry Deadline Around the Corner for World Forage Analysis Superbowl
Deadline Fast Approaching for World Forage Analysis Superbowl; $26,000 in Cash Prizes Available
Winners Announced in 36th Annual World Forage Analysis Superbowl
Dairy Forage Experts to Present at World Dairy Expo
World Forage Analysis Superbowl to Award Record-setting $26,000 in Cash Prizes
---
WFAS Organizing Partners: Dairyland Laboratories, Inc., Hay & Forage Grower, US Dairy Forage Research Center, University of Wisconsin and World Dairy Expo