World Forage Analysis Superbowl


at World Dairy Expo in the Arena Building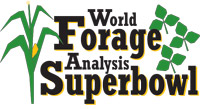 In the World Forage Analysis Superbowl Contest, forage producers enter their highest quality forages in seven different categories to compete for more than $22,000 in cash prizes. The winning forage samples are on display at the east end of the Arena Building. Forage experts from the U.S. Dairy Forage Research Center, University of Wisconsin and other research centers are on hand to present cutting-edge information and to answer individual forage research questions at the Dairy Forage Seminars. Forage Seminar Stage Schedule

SPECIAL THANKS to Mycogen Seeds for their Platinum Sponsorship


RSVP to join us for the Mycogen Seeds Forage Superbowl Luncheon on October 3 at 11:15 a.m. in the Alliant Energy Center's Exhibition Hall here.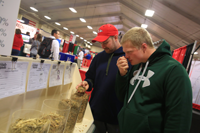 Rules and Entry Form
To learn more about the 2018 World Forage Analysis Superbowl Contest, download the official Rules and Entry form (PDF). 2018 champions will be named at World Dairy Expo. Call 920-336-4521 with any questions.

Corn silage entries must be received by July 1, 2018 All other entries are due August 30, 2018.
News Releases
Winners Announced in World Forage Analysis Superbowl
World Forage Contest Deadline Fast Approaching
Dairy Forage Seminars Provide Additional Education Opportunities at World Dairy Expo
World Forage Analysis Superbowl to Award $22,000 in Cash Prizes
Sponsors
Division
Sponsor
Division
Sponsor

Standard Corn Silage

Haylage

Brown Midrib Corn Silage
Baleage
Grass Hay
Grand Champion Forage
Dairy Hay
Grand Champion
First-Time Entrant
Commercial Hay
Quality Counts Awards for Hay/Haylage & Corn Silage

Thank You to Our Gold Sponsors:

Thank You to Our Silver Sponsors:



Dairy Forage Seminar Stage
Wednesday, October 3


10 a.m.

Strategies to Reduce Feed Costs on the Dairy

Mike Hutjens, Professor Emeritus, University of Illinois

1:30 p.m.

Dairy Nutrition Research Update

Ken Kalscheur, Geoff Zanton and Mary Beth Hall, Research Dairy Scientists, USDA-ARS, U.S. Dairy Forage Research Center

Thursday, October 4

10 a.m.

On-farm Feed and Forage Management for a 44,000-Pound Herd

Tom Kestell, Ever-Green-View Farms, and Steve Woodford, Nutrition Professionals, Inc.

1:30 p.m.

Corn Silage for Dairy: Past, Present and a Look to the Future

Randy Shaver, Professor, University of Wisconsin-Madison

Friday, October 5

10 a.m.

New Insights on Alfalfa-Grass Mixtures for Dairy

Jerry Cherney, Professor, Cornell University

1:30 p.m.

Corn Silage Mycotoxins

Phil Cardoso, Assistant Professor, University of Illinois

Saturday, October 6


10 a.m.

Seeing the Total Financial Picture of the Dairy Puzzle, of Which Forage is One of the Pieces

Gary Sipiorski, Dairy Development Manager, Vita Plus, Inc.
WFAS Organizing Partners: Dairyland Laboratories, Inc., Hay & Forage Grower, US Dairy Forage Research Center, University of Wisconsin and World Dairy Expo