World Forage Analysis Superbowl


at World Dairy Expo in the Arena Building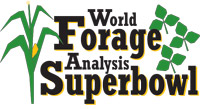 In the World Forage Analysis Superbowl Contest, forage producers enter their highest quality forages in seven different categories to compete for more than $25,000 in cash prizes. The winning forage samples are on display at the east end of the Arena Building. Forage experts from the U.S. Dairy Forage Research Center, University of Wisconsin and other research centers are on hand to present cutting-edge information and to answer individual forage research questions at the Dairy Forage Seminars. Forage Seminar Stage Schedule

SPECIAL THANKS to Mycogen Seeds for their Platinum Sponsorship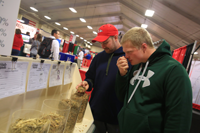 Rules and Entry Form
To learn more about the 2018 World Forage Analysis Superbowl Contest, download the official Rules and Entry form (PDF). 2017 champions will be named at World Dairy Expo. Call 920-336-4521 with any questions.
Corn silage entries must be received by July 1, 2018 All other entries are due August 30, 2018.
News Releases
Sponsors
Division
Sponsor
Division
Sponsor

Standard Corn Silage

Wojceihowski Bros.
Porterfield, Wis.

Haylage

Opportunity Acres
Lena, Wis.
Brown Midrib Corn Silage
Baier Creek Farms
Elmwood, Wis.
Baleage
Katherine Guither
Walnut, Ill.
Grass Hay
Lazy 2K Livestock
Wheatland, Wyo.
Grand Champion Forage

Breezy Hill Farms
Dallas, Wis.

Dairy Hay
Donald & Nancy Hasselquist
Osceola, Wis.
Grand Champion
First-Time Entrant
Judd Farms
Waterville, Minn.
Commercial Hay
Hardrock Farms
Wheatland, Wyo.
Quality Counts Awards for Hay/Haylage & Corn Silage
Fredrick Farms
Owen, Wis.

Prairieland Dairy LLC
Belleville, Wis.
Organic Hay
Joseph Beachy
Bonduel, Wis.

Thank You to Our Silver Sponsor:



Dairy Forage Seminar Stage
Wednesday, October 4


10 a.m.

Cereal-Grain Forages: Providing Nutrient Management Options and Dairy Forage

Wayne Coblentz, Research Agronomist/Dairy Scientist

U.S. Dairy Forage Research Center

1:30 p.m.

Cereal-Grain Forages: Points to Consider When Adding Them to Dairy Cattle Diets

Matt Akins, Assistant Scientist, Department of Dairy Science

Marshfield Agricultural Research Station, University of Wisconsin-Madison

Thursday, October 5

10 a.m.

What Are the Cows Saying About Reduced Lignin Alfalfa?

Mark McCaslin, Vice President of Research

Forage Genetics International

1:30 p.m.

How Do Advances in Corn Breeding Improve the Corn for Silage?

Natalia de Leon, Professor of Agronomy

University of Wisconsin-Madison

Friday, October 6

10 a.m.

Bunker and Pile Safety – Get Your Wake-Up Call Today

Keith Bolsen, Professor Emeritus

Kansas State University

1:30 p.m.

Undigested Fiber in Forages – What Does It Mean to a Dairy Cow?

Dave Combs, Professor of Dairy Science

University of Wisconsin-Madison

Saturday, October 7


10 a.m.

Reducing Leaf Loss During Alfalfa Harvest

Dan Undersander, Forage Extension Specialist

University of Wisconsin-Madison
WFAS Organizing Partners: DairyBusiness Communications, Dairyland Laboratories, Inc., Hay & Forage Grower, US Dairy Forage Research Center, University of Wisconsin and World Dairy Expo