Nominations are now open for 2019 World Dairy Expo Recognition Awards. Producers, organizations, academic staff and others involved in the dairy industry are encouraged to nominate individuals for their outstanding work and dedication to the dairy industry year-round.
Applications are due annually in February. The complete 2019 Recognition Award Nomination Form & Guidelines is available here or by contacting the Expo office at 608-224-6455 or wde@wdexpo.com. World Dairy Expo Recognition Award recipients are honored each year during the show at the Alliant Energy Center in Madison, Wis.
The 2018 Recognition Awards Banquet was held Wednesday, October 3, 2018. Advance tickets could be ordered online through September 21, 2018.
For questions, please feel free to contact Cassi Miller at cmiller@wdexpo.com or (608) 224-6455.
---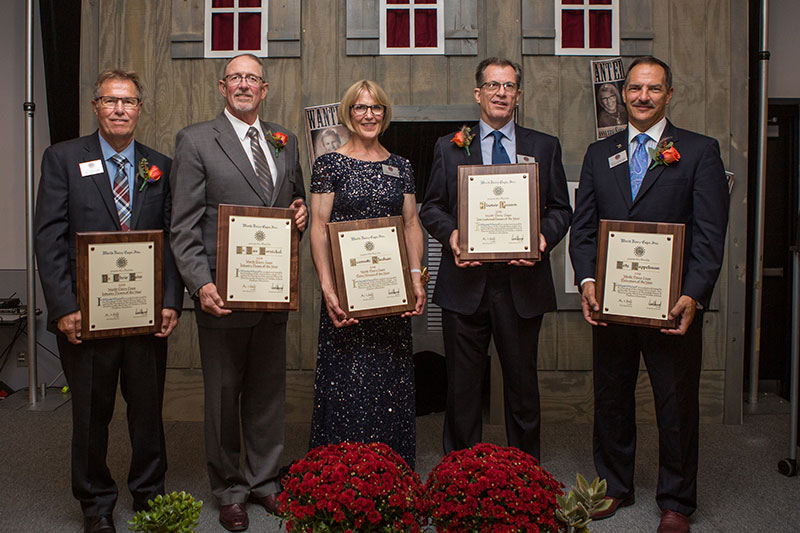 Pictured above are 2018 Recognition Award Winners
Recognition Award Winners
Dairy Woman of the Year
2018 Jeannette Sheehan, Rochester, Minn.
2017 Marilyn Hershey, Cochranville, PA
2015 Rosalie Geiger, Reedsville, WI
2014 Pam Bolin, Clarksville, IA
2013 Karyn S. Schauf, Barron, WI
2012 Mary Shank Creek, Hagerstown, MD
2011 Donna Myers, New Windsor, MD
2010 Liz Doornink, Baldwin, WI
2009 Daphne Holterman, Watertown, WI
2008 Marion Barlass, Janesville, WI
2007 Deborah Lee Reinhart, New Holstein, WI
2006 Janet Shank Stiles, Boonsboro, MD
2005 Donna Sharp, Bath, SD
2004 Cris Peterson, Grantsburg, WI
2003 Linda Hodorff, Eden, WI
2002 Rita Kennedy, Valencia, PA
2001 Judy Iager, Fulton, MD
2000 Berneta Snider Gable, New Enterprise, PA
1999 Deanna Stamp, Marlette, MI
1998 Mary Lou Topp, Botkins, OH
1997 Joann Hartman, Waterloo, IL
1996 Harriet M. Brown, Hastings, MN
1995 Barbara Spoon, Broken Arrow, OK
1994 Bonnie Jo Ayars, Mechanicsburg, OH
1993 Joyce Bupp, Seven Valleys, PA
1992 Joan Brown, Hughson, CA
1991 Myrna Sue Jones, Marshall, WI
1990 Norma Lyon, Toledo, IA
1989 Beatrice Moons, Chino, CA
1988 Esther Welch, Polk, OH
1987 Imogene Woodside, LaCenter, WA
1986 Virginia Boyke, Fond du Lac, WI
1985 Doris Hetts, Fort Atkinson, WI*
1984 Ardath DeWall, Shannon, IL
1983 Gloria Conant, Richmond, VA
1982 Alice Oosterhof, Mt. Vernon, WA
1981 Audrey Sickinger, Cato, WI
1980 Ann Randall, Balsam Lake, WI
1979 Arlene Becher, Berne, IN
1978 Jocelyn Rhein, Brownsville, WI
1977 Joyce Whitis, Stephenville, TX
1976 Barbara Hasfurder, Eminence, KY
1975 Laura Beane, Fort Atkinson, WI*
1974 Jane Skogman, Cambridge, MN
1973 Virginia Benton, Lebo, KS
---
Dairyman of the Year
2018 Pete Kappelman, Two Rivers, Wis.
2017 Charles Ahlem, Turlock, CA
2015 Hank Van Exel, Lodi, CA
2014 James S. Huffard III, Crockett, VA
2013 Velmar Green, Elsie, MI
2012 John B. Fiscalini, Modesto, CA
2011 Alan, Jim, David & John Koepke, Oconomowoc, WI
2010 Donald Bennink, Bell, FL
2009 David Hileman, Tyrone, PA
2008 Charles, George, Tom & Mark Crave, Waterloo, WI
2007 Frank Regan, Waukon, IA
2006 Louis E. "Red" Larson, Okeechobee, FL
2005 Marvin Nunes, Windsor, CA
2004 Donald T. Peterson, Cashton, WI
2003 Tom Camerlo, Florence, CO
2002 Wally Lindskoog, Turlock, CA
2001 Richard & Gerald Coyne, Avon, NY
2000 Howard Voegeli, Monticello, WI
1999 Niles & Elmo Wendorf, Jr., Ixonia, WI
1998 Samuel Minor, Washington, PA
1997 Robert "Bob" Giacomini, Point Reyes Station, CA
1996 John Selz, Humbird, WI*
1995 Richard Clauss, Hilmar, CA
1994 Obie Snider, Imler, PA
1993 Clarence Boyke, Fond du Lac, WI
1992 Jack Hardesty, Berryville, VA
1991 Donald V. Seipt, Easton, PA
1990 David Younger, Yorktown Heights, NY
1989 Richard Shade, Rockton, IL
1988 Norman Barker, Pratt, KS
1987 Russell J. Wirt, Lewiston, MN*
1986 W. Charles McGinnis, Mountville, SC
1985 Eugene Nelson, Union Grove, WI
1984 David G. Smokler, Lancaster, TX
1983 John L. McKitrick, Plain City, OH
1982 G. Joe Lyon, Toledo, IA
1981 William A. Powell, Princeton, MO
1980 Lyle F. Viney, Evansville, WI
1979 Keith King, Oneida, IL
1978 Ivan K. Strickler, Iola, KS
1977 Wesley N. Sawyer, Waterford, CT
1976 Lyman D. McKee, Madison, WI
1975 Edward A. Reed, Lyons, KS
1974 Avery A. Vose, Antioch, IL
1973 J. Homer Remsberg, Middletown, MD
1972 Louis Longo, Glastonbury, CT
1971 John Moser, Louisville, KY
1970 Melvin Sprecher, Sauk City, WI
---
Industry Person of the Year
2018 Dr. Dan Hornickel and Dr. Chris Keim, Whitewater, Wis.
2017 Ben Brancel, Endeavor, WI
2015 Jim Dickrell, Monticello, MN
2014 Dr. Curtis P. Van Tassell, Beltsville, MD
2013 Dr. Ken Nordlund, DVM, Madison, WI
2012 Dr. Sheila M. McGuirk, Madison, WI
2011 Dr. H. Duane Norman, Fulton, MD
2010 Horace Backus, Mexico, NY
2009 Maurice Core, Columbus, OH*
2008 Dr. Michael Hutjens, Urbana, IL
2007 Steve Larson, Fort Atkinson, WI
2006 Gary E. Hanman, Kansas City, MO
2005 Maurice Mix, Brattleboro, VT
2004 Peter Blodgett, Bensalem, PA
2003 Calvin Covington, Ocala, FL
2002 Gregory Blaska, Sun Prairie, WI
2001 David A. Wieckert, Middleton, WI
2000 Miles R. McCarry, Deltona, FL
1999 Roger L. Ripley, Baraboo, WI
1998 Dr. Neal Jorgensen, Luck, WI
1997 David A. Morrow, State College, PA
1996 Donald Storhoff, Baraboo, WI
1995 Richard Chichester, Falmouth, VA
1994 W. Terry Howard, Madison, WI
1993 Doug Wilson, Shawano, WI
1992 Leland Allenstein, Whitewater, WI
1991 Robert McKown, Sandy Creek, NY
1990 Richard E. Nelson, Brattleboro, VT
1989 Arthur Nesbitt, Fort Atkinson, WI
1988 Eugene Meyer, Fort Atkinson, WI
1987 James W. Crowley, Madison, WI
1986 Robert Thayer, Madison, WI
1985 Thomas L. Lyon, Shawano, WI
1984 Willard G. Clark, Hanford, CA*
1983 Elmer Woelffer, Oconomowoc, WI
1982 Robert E. Walton, DeForest, WI
1981 Glen H. Lake, North Branch, MI
1980 Harold E. Kaeser, Columbus, OH
1979 Robert H. Rumler, Brattleboro, VT
1978 Truman F. Graf, Madison, WI*
1977 James F. Cavanaugh, Columbus, OH
1976 Herbert L. Forrest, Washington, DC
1975 Kenneth A. Wallin, Shawano, WI
1974 Harold E. Calbert, Madison, WI
1973 Harry A. Herman, Columbia, MO
1972 Glenn Pound, Madison, WI
1971 David Parr, Little Rock, AR
1970 William Knox, Fort Atkinson, WI
1969 Truman Torgerson, Manitowoc, WI
---
International Person of the Year
2018 Alastair Pearson, Beijing, China
2017 Derrick Frigot, Jersey, Channel Islands, United Kingdom
2015 Kevin D. Lang, Howick, South Africa
2014 Lowell D. Lindsay, Guelph, ON, Canada
2013 Pedro Hugo Testa, Buenos Aires, Argentina
2012 Dr. Abelardo Martinez, Tlalnepantla, Mexico
2011 Mrs. Anne Perchard , St. Martin, Jersey, C.I., United Kingdom
2010 Mr. Tadanaga Komori, Hokkaido, Japan
2009 Dr. Jan Philipsson, Uppsala, Sweden
2008 Dr. Hubertus Diers, Altenberge, Westfalia Germany
2007 Dr. Juan A. Debernardi, Buenos Aires, Argentina
2006 Dr. Joao Floriano Casagrande , Barretos, SP, Brazil
2005 Shinichiro Nosawa , Tokyo, Japan
2004 Gonzalo Maldonado Gomez , Bogota, Colombia
2003 Peter Padfield, Essex, United Kingdom
2002 James Thwaites , Taranaki, New Zealand
2001 Pieter Nicholas Pentz, Cape Town, South Africa
2000 Heinrich Meli, Switzerland
1999 Holger Moritz Hansen, Kerteminde, Denmark
1998 Jan Bierma & Han Hopman, Steins, Holland
1997 Dr. (Miss) Amrita Patel, Vallabh Vidyanagar, India
1996 Robert H. Rumler , Chambersburg, Pennsylvania, United States
1995 Jake Chardon, The Netherlands
1994 John Edward Moffitt, United Kingdom
1993 Verghese Kurien, Calicut, India
1992 Roland Singy, Posieux, Switzerland
1991 Gonzalo F. Cevallos, Urueta, Queretaro, Mexico
1990 Julio R. Brouwer, Key Biscayne, Florida, United States
1989 Lajos Szaleczky, Budapest, Hungary
1988 Giuseppe Santus, Brescia, Italy
1987 George Murray Clemons, Brantford, Ontario, Canada
1986 Gunther Rath, West Germany
1985 Maria Stolzman, Warsaw, Poland
1984 Tsutomu Utsunomiya, Sapporo, Hokkaido, Japan
1983 Gustav Wilke, Fockinghausen, West Germany
1982 Galo Plaza, Quito, Ecuador
*Deceased