Advertising
---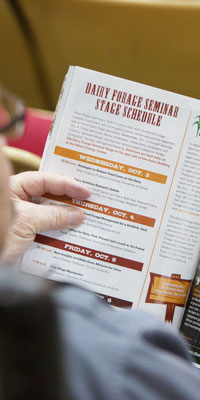 The Official Program, published by Dairy Herd Management is the premier publication of World Dairy Expo. In addition to all commercial exhibitor listings and booth locations, the magazine is filled with important information, interesting stories and one-of-a-kind photos. The Official Program is a great opportunity for promotion by exhibitors before, during and after World Dairy Expo.
Pre-Show Exposure
The Official Program is mailed to 58,000 dairy industry professionals as the August edition of Dairy Herd Management. By advertising in the Official Program, you will ensure that your company's promotional message is seen by the thousands planning to attend the show.
At Expo
Attendees are able to pick up a copy at World Dairy Expo while enjoying a drink in The Tanbark, listening to an Expo Seminar, watching the action in the Showring or other locations around the grounds.
For more information, please contact your Dairy Herd Management Representative:
Ramona Rei
fjmlivestock@farmjournal.com
Click here for the Official Program rate sheet.
---
Expo Daily Edition
The Expo Daily Edition, published by Dairy Star, is Expo's on-grounds daily newspaper. It is available at the gates and distributed throughout the grounds each morning. Look to the Expo Daily Edition to expand your advertising dollars by reaching producers on grounds every day of the show. Contact Laura Seljan at Dairy Star to learn more or find the Expo Daily Edition rate sheet here.
Enjoy the 2019 Expo Daily Edition newspapers (PDFs):
Sunday, September 29, 2019
Monday, September 30, 2019
Tuesday, October 1, 2019
Wednesday, October 2, 2019
Thursday, October 3, 2019
Friday, October 4, 2019
Saturday, October 5, 2019
---
Cattle Log
The Cattle Log is the official guide for Expo's Dairy Cattle Show. Printed for each breed show and available online, each Cattle Log contains information about every animal that walks into the Showring. Over 12,000 Cattle Logs are distributed ringside throughout the week, and they are posted on the Expo website before each show and available digitally year-round. What better place to reach producers than through an ad in the Cattle Log. Your ad will appear in the Cattle Log for each of the seven breeds and the International Junior Holstein Show. Contact the Expo office for more details or view the rate sheet.

Download the 2019 Cattle Log editions (all PDFs):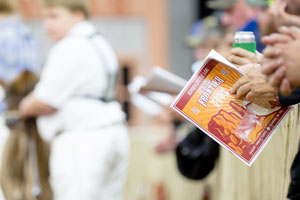 International Ayrshire Show
International Brown Swiss Show
International Guernsey Show
International Holstein Show
International Jersey Show
International Milking Shorthorn Show
International Red & White Show
International Junior Holstein Show