Enter Online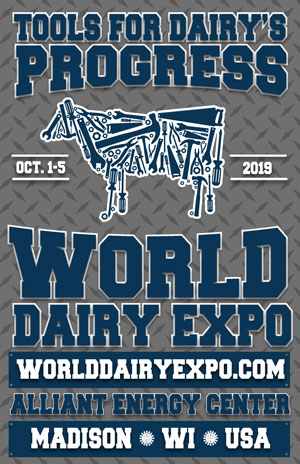 Welcome!
World Dairy Expo 2019 Dairy Cattle Show entries are open. Paper late entries are now only being accepted through the Show. You may complete the paper entry below and bring it to the Dairy Cattle Show office.
New to the Dairy Cattle Show, a Summer Junior Two-Year-Old Cow Class has been added to the International Holstein Show, International Junior Holstein Show, International Red & White Show and International Junior Red & White Show. Animals exhibited in this class are born between June 1, 2017 and August 31, 2017 and in milking form at WDE.
Stay up to date on current health requirements for cattle traveling to WDE. All testing and health requirements can be found on the Department of Agriculture, Trade and Consumer Protection website.
In order to remain in compliance with the USDA Animal Disease Traceability (ADT) rule, animals MUST have official AIN or CCIA tag ID submitted with entry, listed on their health papers and a matching AIN or CCIA tag in their ear when they arrive on grounds. Acceptable forms of animal identification are: USDA AIN 840 tag, Canadian CIA RFID 124 tag, Manufacturer Coded RFID 900, 982, or 985 tag. *NOTE: Manufacturer coded 900, 982 or 985 RFID tags were discontinued as official ID by USDA starting in 2015. However, tags applied before March 11, 2015 will be recognized for the life of the animal. Tags must be in place in the animal's ear upon arrival to the Expo grounds. This information will be used for health check-in upon arrival. Breed show check-in will continue to use an original breed association registration paper.
Does your dairy cattle entry need an RFID tag? Datamars, Inc., Temple, TX is sponsoring up to ten (10) 840-series RFID tag sets per exhibitor for U.S. exhibitors who need AIN tags for their entries. A premise ID is required. To obtain your tags or visit Datamars to order tags online or contact April Walker, Datamars directly (phone: 254-598-3452).

Health requirements for cattle traveling to World Dairy Expo can be found here.
Premier Entry: Enter Premier Exhibitor and Premier Breeder Entry Online here beginning Sunday, September 29, 2019 -- Exhibitors must submit their Premier Exhibitor and Breeder entries onine. Login is not required, provide your email address (optional) to receive confirmation of your entries. Here is a guide for successful Premier Class entries.
If you have questions, feel free to contact us via email or at 608-224-6455.
Below is Entry information for 2019.
Download the 2019 PREMIUM BOOK (PDF).
2019 Premium Book PDF Forms and Applications
We recommend entering online where we accept visa and mastercard payment, but if you prefer to print and mail your entries, paid by check or money order, use the Cattle Exhibitor forms below. Faxed or emailed entries are not accepted as an official entry.

2019 Dairy Cattle Exhibitors Information
Once you have submitted your entries, World Dairy Expo will provide entry confirmation via email to those who provide a valid email address or by postal mail.
2019 Junior Breed Show Alternate Leadsman Forms
Save
Save
Save
Save