General Information
---
A
dmission
Purchase your tickets online before you arrive in Madison using our new digital ticket platform! Admission tickets are required Tuesday, October 3 - Friday, October 6.
Advance Admission prices through October 2, 2023 (12 years and older):
$15 daily | $40 season
October 3 - 6, 2023 Admission prices (12 years and older):
$25 daily | $50 season
11 years and younger: FREE
Purchase your digital tickets here!
*Parking included in admission.
Mobile App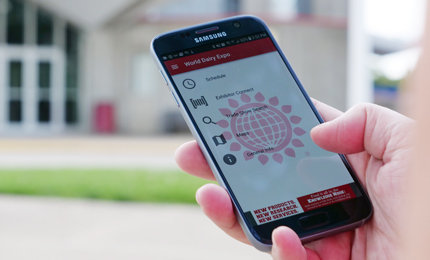 Designed with attendees and exhibitors in mind, the WDE Mobile Event App allows you to create a custom Expo Experience! After downloading, create a user profile to make the most of everything the app has to offer. LEARN MORE
Travel Information
Location
Alliant Energy Center
1919 Alliant Energy Center Way
Madison, WI 53713
Airports
Dane County Regional Airport (Madison, WI): 20-minute drive from World Dairy Expo
Mitchell International Airport (Milwaukee, WI): 1.5-hour drive from World Dairy Expo
O'Hare International Airport (Chicago, IL): 3-hour drive from World Dairy Expo
Midway Airport (Chicago, IL): 3.5-hour drive from World Dairy Expo
Taxis
Taxis are available during show hours outside of the East/West corridor of the Exhibition Hall and can be reached by calling:
Madison Taxi: (608) 255-8294
Union Cab: (608) 242-2000
Beyond Expo
Make the most of your trip to Madison, Wisconsin by exploring all it has to offer! From food options to shopping and unique experiences, you can find plenty to do in Wisconsin's capital city beyond World Dairy Expo. Check out the visitor's guide made just for Expo attendees by Destination Madison!
Food Selections
From grilled cheese to a ribeye sandwich, Expo provides a wide variety of dining options on-grounds, including The Tanbark. LEARN MORE

The Tanbark, located in the Arena Building, is a full-service bar and restaurant that serves as the meeting place for attendees and exhibitors. Join us for a meal, Happy Hour, a nightly reception or an industry-hosted event!


Lunch: Monday - Friday, 11 a.m. - 3 p.m.
Bar: Monday - Friday, 11 a.m. - close
Expo Family Lounge
This area is a place for families with small children to rest and recharge. This quiet lounge features abundant seating, a changing area and more. The Expo Family Lounge, located in the Madison Room on the second floor of the Exhibition Hall, is sponsored by Dairy Girl Network. To access the Family Lounge, utilize the elevator located by the information booth in the Exhibition Hall.
Family Fun in the Coliseum!
The Arena Level of the Coliseum no longer hosts commercial exhibits. Instead, the Arena Level is now the spot for some family fun while at Expo! Throughout the West and South ends of the bottom level of the Coliseum, you'll find areas to sit back and relax, shop, and for the kids, lots of fun activities!
Brevant seeds Attendee Learning Lounge
Features lounge seating, a concession stand and ExpoTV. The Brevant seeds Attendee Learning Lounge is located on the east end of New Holland Pavilion 1 and is open during Trade Show hours.
Purple Cow Gift Shop
The Purple Cow Gift Shop, World Dairy Expo's official gift shop, is seasonal and only open during the event. During the week of Expo, you'll be able to shop and browse from a large selection of cow-related items. Whether shopping for yourself or the hard-to-buy-for person on your gift list, the Purple Cow Gift Shop is sure to have something for all cow lovers from infants to grandparents.

Available only at the Purple Cow are the 2023 collector pins, milk bottles, mugs and hats. Get a sneak peek at all of the products on the Purple Cow Facebook page.
Located in the Exhibition Hall lobby, the Purple Cow is open:
Sunday & Monday: 3:00 p.m. to 7:00 p.m.
Tuesday - Thursday: 9:00 a.m. to 5:30 p.m.
Friday: 9:00 a.m. to 4:00 p.m.
Bring your list and shop early for the largest selection!
Groups
Charter Buses
Several local companies are available to provide charter buses for large and small groups.
Lost and Found
Located at the Expo Show Office on the top floor of the Coliseum or by calling (608) 224-6455.
Mobility Scooters
World Dairy Expo recommends working with Madison Medical Rental for all of your mobility scooter needs. Madison Medical Rental will work directly with you to provide delivery to the Alliant Energy Center. Booking is required at least two days in advance. To book your scooter, or for more information, please visit madisonmedicalrental.com or call (608) 628-6312.