World Dairy Expo Promotional Materials
World Dairy Expo offers several items to help you promote your company's participation at World Dairy Expo. These materials are available at no charge to our exhibitors and are distributed on a first-come, first-serve basis. Please print the 2019 Promotional Material Form and fax or mail it to our office to reserve your materials today!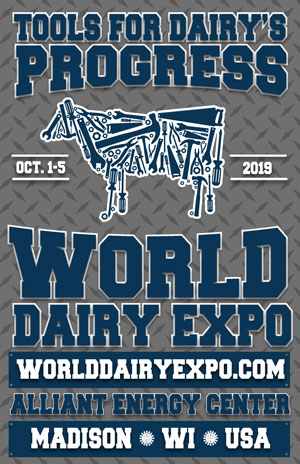 Daily Schedules – This piece has the entire 2019 World Dairy Expo schedule and is a very handy reference for your customers when they are planning their trips to Expo. Daily schedules are available starting in August.
2019 World Dairy Expo Posters – These posters are a favorite collectible each year – get yours while they last! Posters come in two sizes, 15 1/2" x 24" and 7" x 11".
World Dairy Expo Web Banners – Promote your participation at in the World Dairy Expo Trade Show by including a WDE web banner on your website. Customization is available.
Theme Art & WDE Logo – Want to use the 2019 World Dairy Expo theme graphics to promote your involvement in the show? Download these images on the Media Files page for use in advertising or on your website.