Book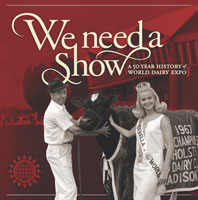 We Need A Show
A 50 Year History of World Dairy Expo
Order Here
World Dairy Expo will celebrate its 50th anniversary in 2016, and to celebrate this milestone, journalists have collaborated to create a historical book reminiscing on 50 years of Expo memories. The limited edition commemorative book, We Need a Show, gives insight into how the show began, explores the struggles and successes over the years, and looks into what the future might hold.
Help
Need Help?
Use our site search to find what you're looking for
Contact
World Dairy Expo
3310 Latham Drive
Madison, WI 53713 USA
Location
Alliant Energy Center
Madison, Wisconsin
Mission
World Dairy Expo serves as a forum for dairy producers, companies, organizations and other dairy enthusiasts to come together to compete, and to exchange ideas, knowledge, technology, and commerce.