World Dairy Expo Championship Dairy Product Contest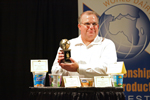 This contest, sponsored by the Wisconsin Dairy Products Association, is the only judging contest of its kind in North America, since no other national contest includes all dairy products. This means that cheese, butter, yogurt, ice cream, cottage cheese, fluid milk, whipping cream, sour cream and whey processors have a unique opportunity to compete in a prestigious, all-dairy national contest. The winning companies will be afforded the unprecedented opportunity to promote and market their products as "the best of the best" in North America.
Press Release: 2012 Contest Winners
Contest Winners: 2012 Contest Top Winners
Press Release: Scholarship Winners Announced
Press Release: Call for 2012 Judges
The 2013 World Dairy Expo Championship Dairy Product Contest information is available at WDPA's website. For questions, please contact Brad Legreid.