Hotel Information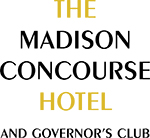 The Madison Concourse Hotel & Governor's Club
1 West Dayton Street
Madison, WI
Phone:
800-356-8293
Fax:
608-257-5280
www.concoursehotel.com
The Madison Concourse Hotel and Governor's Club is located in the heart of downtown Madison, just steps away from the State Capitol, State Street, Overture Center, University of Wisconsin campus and dozens of shops, restaurants and entertainment venues. We offer round trip transportation to the World Dairy Expo grounds.
Amenities include:
• convenient round trip transportation to the World Dairy Expo grounds is available.
• complimentary airport shuttle
• 24-hour business center and complimentary wireless internet.
• CIRC restaurant, The Bar, and Starbucks.
• Fitness center and indoor pool, whirlpool/ sauna.
• Underground parking
• The Governor's Club executive level, on the top three floors, features complimentary cocktails, hors d'oeuvres, desserts and breakfast in the private lounge overlooking the State Capitol.
Special Note: Minimum night stay restrictions apply.
If you require more than five rooms, please contact:
Michael Ferguson
mferguson@concoursehotel.com
(608) 294-3020
Availability and Rates:
Single Room
Number of Rooms Available
Sunday
Monday
Tuesday
Wednesday
Thursday
Friday
Saturday
$259.00
150
100
80
70
70
70
50
Hotel Details:
Sponsor level:
Supreme Champion
Location:
Downtown/Campus
Minutes to WDE:
10
Has airport shuttle?
Yes
Has WDE shuttle?
Yes
Indoor Pool?
Yes
Outdoor Pool?
No
Whirlpool?
Yes
Spa?
No
Hot tub?
Yes
Sauna?
Yes
In hotel restaurant?
Yes
Next door restaurant?
Yes
Free breakfast?
No
Free wireless?
Yes