Commercial Exhibitor Services
This section of our website is for our contracted commercial exhibitors and their agencies. For a current list of companies that participated in the 2013 World Dairy Expo, please click here.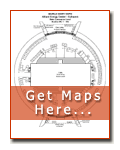 If you have questions about exhibits, set-up, signage, drayage, etc., your first source of information should be the Exhibitor Manual and Display Rules and Regulations. For additional questions, contact Susan Orth at sorth@wdexpo.com.
To learn more or to apply as a trade show exhibitor at World Dairy Expo, please click here. To complete the online application for exhibit space, click here.